Enjoying Boracay on limited time and budget – First-hand tips from the team at Boracay Beach Real Estate.
At Boracay Beach Real Estate, we aspire to keep updated with the current offerings of the famous island and build camaraderie with the hotels and resorts in order to bring you the best deals.
Two of our Makati based staff had the opportunity to visit Boracay Island for 4 days of combined work and pleasure.  Read on to hear about the exciting adventure of Ahnne and Kit, who shared some tips on how to make the most of the island with limited time and budget.
The Team
Ahnne and Kit, Boracay Beach Real Estate's Booking Specialist, and Web Marketing Specialist, respectively, were given the opportunity to visit the island paradise. The purpose of the visit mainly focused on work, but first-time Boracay tourist Kit (who had gone to other local beaches, though) said he was still excited about the work trip. Ahnne, who visits the island yearly since 2008, anticipated a busy tour, given her previous experience in the industry.
Preparation and Travel to Boracay
Being a photography enthusiast, Kit polished his camera's lenses and allotted enough space for it in his luggage. Geared for the leisurely sunbathing ahead, Ahnne stashed some pairs of her best swimsuits and cover-ups.
The scheduled departure at 6:45 am at NAIA Terminal 4 got delayed by thirty minutes, but still, they arrived in Kalibo by past eight in the morning, greeted by the awaiting Bus to transfer them to Caticlan Jetty Port. After a short boat and tricycle ride, they checked-in at their first residence provided by Shore Break Boracay Resort. Panorama Boracay Resort accommodated Ahnne and Kit for the remaining nights of the trip.
Visiting the Hotels and Resorts in Boracay
With just limited time on the island, Ahnne and Kit set out to accomplish the main goal: inspect facilities of partner accommodations and build a stronger association with the hotel and resort handlers. Ahnne visited each of the top hotels, with every stop including a peek at rooms and a quick tête-à-tête with the in-charge personnel.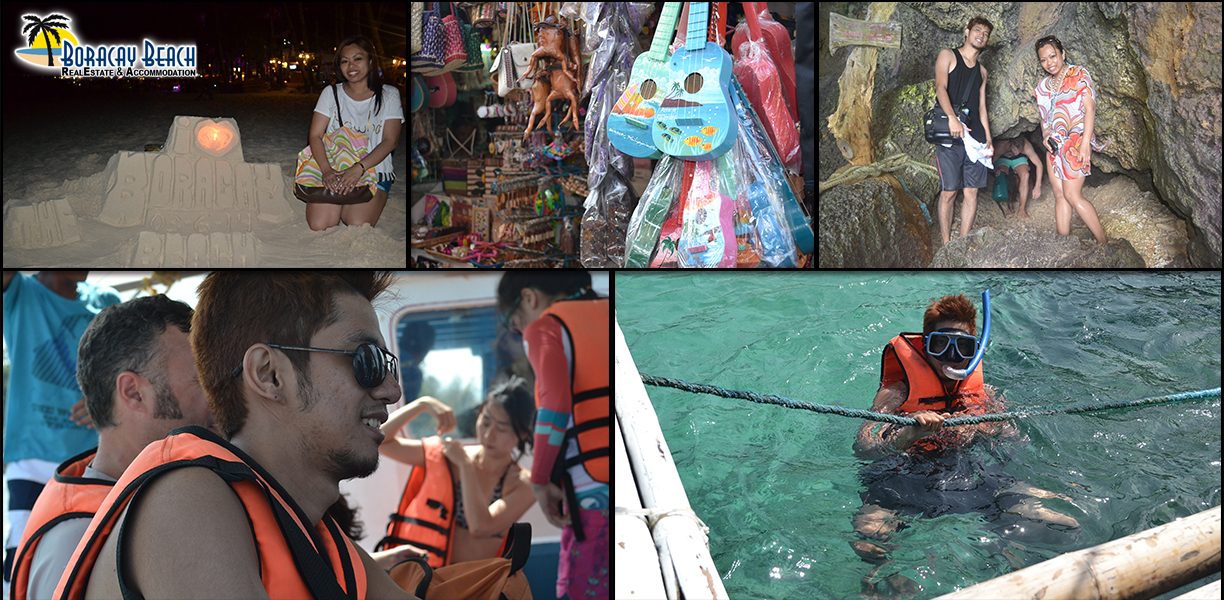 Leisure activities on Boracay
When the sun had set for the day, Ahnne and Kit took precious time to relax and revitalise ready for the next day ahead.  This included leisurely strolling down White Beach and experiencing the restaurants and nightlife entertainment that Boracay is famous for.
One memorable crowd-drawing moment was when a popular local eatery took a moment from cooking and serving customers to entertain their crowd with a choreographed exhibition dancing to the catchy Maroon 5 (feat Christina Aguilera) song, Moves like Jagger.
[youtube id="nJl-Iit0mAU" width="600″ height="350″]
After three days of greeting hotels and resorts deserves a relaxing counterpart, on the fourth day of the trip, the friends took their time to enjoy some of the leisurely activities of Boracay. They did the usual food hunting in the many restaurants as well as souvenir shopping at the D'Mall and D'Talipapa.
Ahnne enjoyed the "3S"—sun, sand, and sea—by laying herself on the soft sand of White Beach for a few shades of tan. Whilst exploring and swimming appealed to Kit, whose experiences from other beaches in the country warranted him a reliable comment about the precious island of Boracay.
"Boracay is beautiful because it offers everything travellers could look for: activities, food, shopping, accommodation—there are plenty of choices," said Kit.
When asked about her thoughts about Boracay, Ahnne didn't hesitate to reply: "When I first came to Boracay, I was enchanted—indeed the best beach! Then every year I come back, I always see changes, a lot more aside from swimming. I told myself that this island has a lot to offer, so I won't tire coming back."
Tips for tourists in Boracay
Ahnne shares her top tip to tourists for where to stay:
Boracay on a 10K budget
With a reliable background in Boracay travel, Boracay Beach Real Estate tips tourists that a budget between Php7,000 and Php10,000 is enough to enjoy the famous island's attractions, activities, food, and shopping.
With this general budget, a couple can cover the following:
"It is best to check out sites for deals and promos," suggests Kit.
When is the best time to visit Boracay?
Ahnne recommends that honeymooners and daters better go in December to avoid the big crowd, while summer is a high season when travellers can get into the real active vibe of Boracay island.