In support of the Department of Tourism's campaign entitled, "It's More Fun in the Philippines", one of the leading hotel and resort listings in Boracay launches its tourism campaign that is aimed to showcase the fun things people do and can do while they are in the island.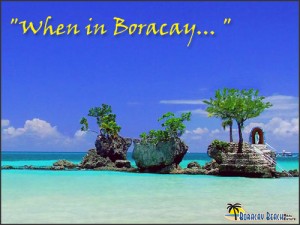 'The Boracay Beach' calls the campaign "When in Boracay" and invites everyone to visit their official Facebook Fan Page at http://www.facebook.com/theboracaybeach and post your comments and photos for the followers to see. You can also tweet through their Twitter account at http://twitter.com/theboracaybeach. If you don't have any social media account, then you can email your story to marketing@boracaybeachrealestate.com.
As everyone is welcome to participate in the campaign, you can post just about anything that pertains to the things you did and will do when in Boracay. If you haven't come to any of the beach resorts in Boracay, you can still post your holiday and vacation plans. Tell everybody about where you want to go and what activities you want to experience.
There is always something that you can do while you stay in Boracay island. There are a lot of white sand beaches, water sports activities, spas and massage centers, as well as island hopping activities, cruises, shopping opportunities, and bar hopping. So be heard and send your story to 'The Boracay Beach' today.
About 'The Boracay Beach'
'The Boracay Beach' is your partner when it comes to finding the best selection of accommodation in Boracay. Its staff will help you find a good spot for you to spend your holiday in that would suit your taste and budget. It does not simply recommend any Boracay hotel and resort without it having personally checked the places.
So whenever you are thinking of anything about Boracay, then make sure you ask 'The Boracay Beach' to ensure that your vacation will be worth the time and cost and to have fun memories with your love one.