The Boracay Beach is excited to invite our fans and patron members to discover and share the amazing activities and sights that can be experienced in Boracay. Titled "When In Boracay…", you are welcome to post on our Facebook timeline, your comments and photos to share with our followers.
From romantic getaways to family bonding experiences, there is no shortage of ideas of things to do in Boracay, as we look forward to another summer of fun and adventure in this amazing location in the Philippines.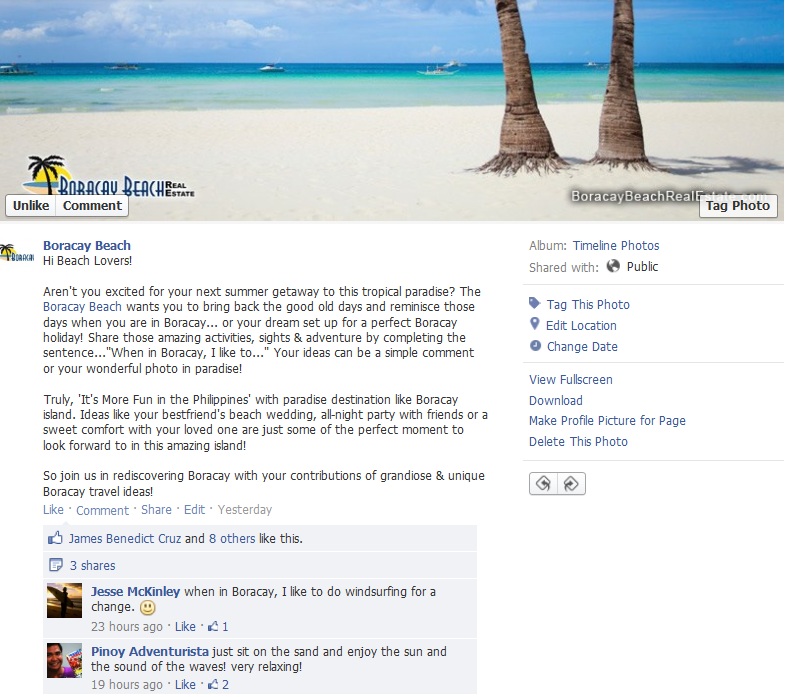 Do you love having a massage in the island after the fun-tiring water activities? How about bar hopping and partying when the sun comes down? Some would prefer just spending the time sitting under the sun on the sand. For food lovers, they would love to try different foods in different restaurants. These are just few things that some people in the island would love to do. Indeed, there are countless of things to do when you are in Boracay.
Tell us your upcoming holiday plans, what is on your to do list, your wish list of activities or even if you are still dreaming about your perfect Boracay holiday we'd love to hear from you.
So come and join us in rediscovering Boracay with your contributions of unique or grandiose Boracay travel ideas. Post those activities you want to do, places you want to see or special occasions that you would like to enjoy in Boracay through our official The Boracay Beach Facebook Page, http://www.facebook.com/theboracaybeach or tweet reply at our twitter account http://twitter.com/theboracaybeach. You can also comment your ideas in this blog post or email your wonderful photos at our email account – marketing@boracaybeachrealestate.com.
Truly, it's more fun in the Philippines with a paradise destination like Boracay island.